Academy of Distinguished Teaching Scholars (ADTS) - 2023 Inductees
---
The Provost announces the 2023 inductees into the University of Florida's Academy of Distinguished Teaching Scholars.
Each year the Academy of Distinguished Teaching Scholars (ADTS) honors University of Florida's exceptional teaching and scholarship accomplishments by inducting into its membership faculty members who have demonstrated sustained innovation and commitment in both areas. Please join me in welcoming the 2022-2023 inductee:
Pavlo "Pasha" Antonenko, Associate Professor, Educational Technology, College of Education
This teacher-scholar was selected based on portfolio submissions that provided strong evidence of the integration of superior teaching and research and a record of distinguished scholarly accomplishment that has garnered recognition at the national and/or international level.
To assist them in advancing their vision for scholarly excellence and faculty enhancement at UF, this Academy of Distinguished Scholar inductee will serve for three years on an advisory board for the Provost's Office. In this capacity he will assist in developing programs and promoting policies that enhance the professional careers and experiences of faculty. Academy members also promote a university-wide discourse on key issues surrounding the integration of teaching and research at the University.
After completing the three-year term on the advisory board, the member will retain the title of Distinguished Teaching Scholar and continue to be a part of the Academy.
---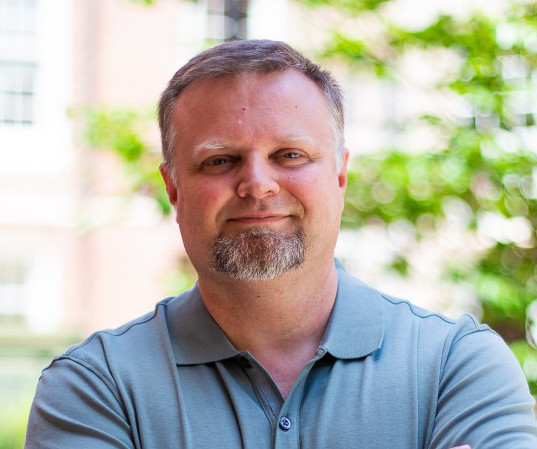 Dr. Pasha Antonenko is an Associate Professor of Educational Technology and Director of the Neuroscience Applications for Learning (NeurAL) Lab in the School of Teaching and Learning at the University of Florida. He is passionate about studying and implementing effective and innovative uses of technology in education. This educational scholarship has been supported by grants from the National Science Foundation (Innovative Technology Experiences for Students and Teachers, Science of Learning and Augmented Intelligence, Improving Undergraduate STEM Education etc.) Dr. Antonenko works closely with learners and educators in both formal and informal learning environments, in Northeast Florida and across the nation. Most recently he and his team have researched strategies to integrate cybersecurity education within afterschool and summer programs and with students as young as 7-8 years old. Antonenko is also working with UF colleagues from Geology and Computer Science to create an AI-powered, gaze-driven display techhnology that personalizes technology-based learning for each student based on their visual attention patterns.